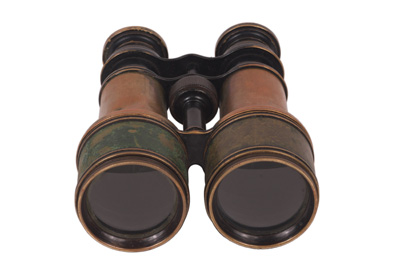 For every broken binocular there's a story - hopefully a good one! I remember during one field trip, when the jaeger watching was exceptional, the weather was just awful - high winds and rain for two straight days. Unfortunately, my Swarovski 8x30 SLC succumbed to the harsh elements and fogged internally. Though binoculars are as durable as they've ever been and are by no means fragile, accidents can happen. In this article, I thought I would take a moment to describe five things that sometimes go wrong with binoculars.
Collimation (alignment)
Collimation refers to the alignment of the optical elements of the binocular to the mechanical axis. Whether from improper collimation at the factory, or if the binocular is dropped, poor alignment is by far the most commonly reported problem with binoculars. When viewing through a binocular that is out of alignment, people report "seeing double." Fortunately, this problem can be easily repaired by sending your binocular in for service.
Internal Fogging
Binoculars that are waterproof and fogproof are gas purged (filled) with nitrogen or argon. If the O-ring seal that keeps the gas inside becomes compromised from an accident, the binocular becomes susceptible to moisture contamination. This is often reported as a cloudy area on the inside of the objective lens or eyepiece. When viewing through an internally fogged binocular, you'll see a blurry image and significant loss of contrast.
Broken Eyecup(s)
Due to their physical location, the ocular (eyecup) assembly is one of the most susceptible binocular components to become damaged. Most eyepieces today are the twist-up/twist-down style, thus comprised of moving parts. Should the eyepiece take a hit, the eyecup or the entire assembly can break. Because many eyepiece components have a very fine thread, the solution isn't always a matter of replacing the damaged part. Binoculars with a broken eyecup should be returned to the manufacturer for repair.
Scratched Optics
No matter how carefully you treat your binocular, the glass or coatings may eventually show subtle signs of damage. Fortunately, it takes a severe scratch in optics to impede their performance, so in the majority of cases, such scratches can simply be ignored. Sometimes what appears to be a scratch on a lens is merely a dry water mark that can be cleaned off with a moist lens cloth or tissue.
Broken Strap Attachement
Many binoculars have metal or plastic strap eyelets to thread or attach the strap through. If you connect a harness strap using a metal ring directly to the eyelet, over time the eyelet will wear down and break. To prevent this, you should use the plastic zip ties included with most harness straps. An eyelet can also break if the binocular strap catches on something during an accident. Repairing the eyelets must be done by the manufacturer.
As a rule, you should return a broken binocular to its manufacturer and not necessarily where you purchased them from. If you have an old binocular that needs repair but the manufacturer is no longer in business, Herb Koehler of Libertyville, IL has been repairing binoculars for over 50 years:
KOEHLER-OPTICS
630 E. Rockland Road
Libertyville, IL 60048
847-362-7757
If you have questions about where to send a binocular for repair, please feel free to call
Eagle Optics
at (800) 289-1132.
Mike McDowell
Eagle Optics Staff